but it will completely block the view outdoors and no sunlight will pass through it. And consider the many other practical uses in summer or winter over pet enclosures, greenhouses, garden plants, sensitive electrical boxes, emergency use areas, and more!

It's not a painted or colored surface like all other tarps, tents, or roof surfaces that will reach 125-175 degree F temperatures that you can feel below, it's a triple-laminated tarp with two highly reflective metallized surfaces coated over a super-strong "rip stop" weaved but solid plastic sheet specially coated with our SolaReflex reflective material. Nearly all the intense incoming solar energy generated heat is reflected away before it has a chance of being absorbed by the roof or surface or area underneath.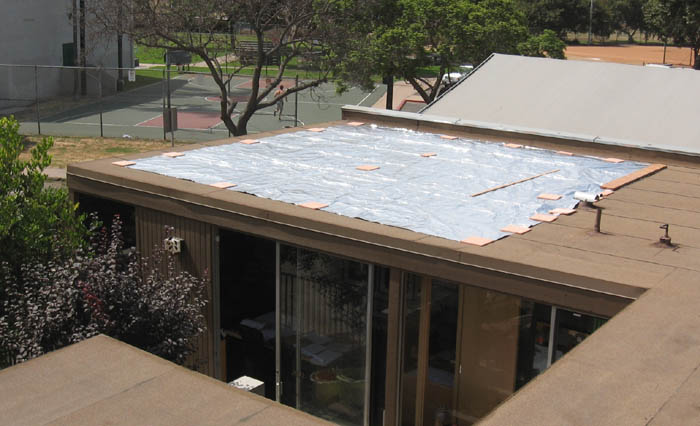 Custom larger sizes of both CoolTarps can be ordered by special request. Our new SolaReflexx Cooltarp will be 8' wide be up to 200 feet long, and up to 300 feet long for Snow White CoolTarp. You can cut either CoolTarp to fit using scissors or a knife, and cut openings for vents, HVAC components or antennas where needed. Here is an example of a very large installation of SolaReflex CoolTarp (right photo) that measures 22' x 23' temporarily installed on a flat roof above an office space that gets very hot. Six, four foot widths of 4' wide SolaReflex foil were attached and secured to each other to make this CoolTarp.
We used 1' square clay tiles to weigh it down to prevent wind interference. On a 78 degree F day, the roof reached 155-160 degrees, but once the CoolTarp was installed it dropped to nearly 110 degrees, even with the saturated heat already stored in over 2" of insulation below the roof deck. Custom bulk sizes are $1.50 per square foot. You will need to email us or include the exact dimensions with your custom size request when you order either bulk size CoolTarp.
All other tarps (including the silver painted and light colored tarps) roof coverings and shade cloths absorb or transmit considerable sunlight and convert it to heat, which radiates downward, heating the space below.
The sun's direct radiant energy is reduced, but the absorbed heat will still add considerable warmth below. CoolTarp stays the coolist and does not allow any sunlight to pass through. It also is has very low emissivity at .03, far lower than any painted or applied surface. This is one of the most effective ways to eliminate "heat islands" in cities that contribute to global warming.
---
Please use these secure PayPal order links to place your order for both CoolTarps. Maximum standard size for SolaReflex CoolTarp is presently 8' x 16', but when our upgraded and improved SolaReflexx CoolTarp is available, bulk lengths up to 200 feet will be available and a more affordable price. The minimum width for bulk Snow White Cooltarp is 12', with lengths up to 300' long. Don't forget to indicate the bulk size dimensions when you place your order. The default shipping cost is for standard size orders. Larger bulk orders will cost more to ship, especially when shipping overseas.
Click to order optional $1.79 pressure grommets -
---
For 50% filtered sunlight and 70% solar heat reflection, have a look at our all-season 70% reflective fabric that's very affordable and easy to install on windows, patio covers or in open areas with no shade, just like with CoolTarp. It's called Thermal Barrier Fabric, and you can see it, and over a dozen of our unique solar thermal products you can use at home or on the go. It's available to order now by clicking here to jump to our thermal fabric web page.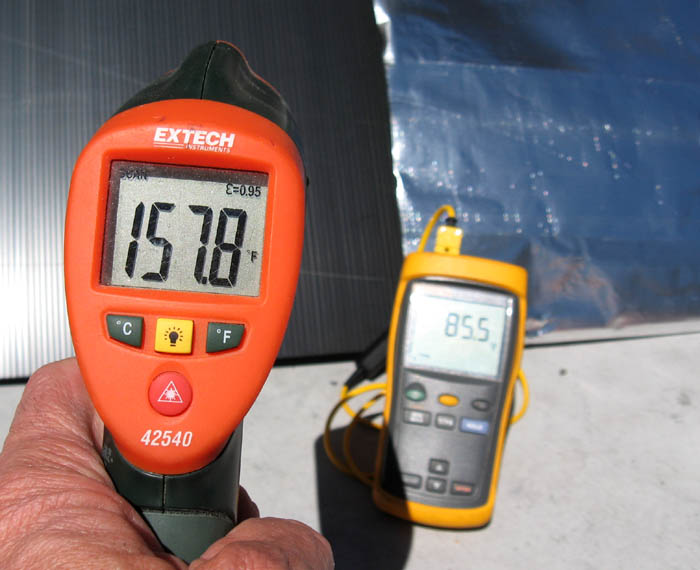 Imagine reducing searing hot summer roof temperatures that normally heat up to 150-180 degrees F, to within 15 degrees of the ambient air temperatures when CoolTarp is suspended above it or sitting on the surface. So on an 80 degree day, the roof surface and structure below will only warm to about 95 degrees when CoolTarp is above it, which is about 65 degrees cooler than a solar-exposed roof, without using any additional energy.
In this demonstration photo you can see the surface temperature of a thick black plastic sheet (represents the roof surface in summer)on a 75 degree F day reads 157 degrees F using an IR Thermometer, and underneath the SolaReflex CoolTarp the surface on the right side, the temperature is only 85 degrees as shown on the thermometer after sitting in the sun for more than an hour. This is a 72 degree drop in temperature by suspending CoolTarp an inch above the surface. If CoolTarp touches the surface, temperatures will be slightly higher (10-15 degrees F) because a small amount of heat conducts through to the surface.
It works just as well over numerous other areas like tents, patio covers, sun-exposed windows, boats, RV's, electronic enclosures, plants, and animal enclosures. As a top-rated reflector product, it can also be used for Solar Daylighting, where dark rooms can be lit up inside through windows or glass doors when it's opened on the ground or pulled secured on a nearby wall or fence. It's actually fire resistant, and can withstand radiant heat temperature above 350 degrees F.
This method of passive solar cooling will keep building interiors much more comfortable and reduce the demand for expensive air conditioning. It prevents excessive heat storage in the roof structure during the day, which eventually passes through into the attic and radiates into the rooms below. That's why even well-insulated buidings warm up and stay warm on hot days--the heat will eventually travel through the structure.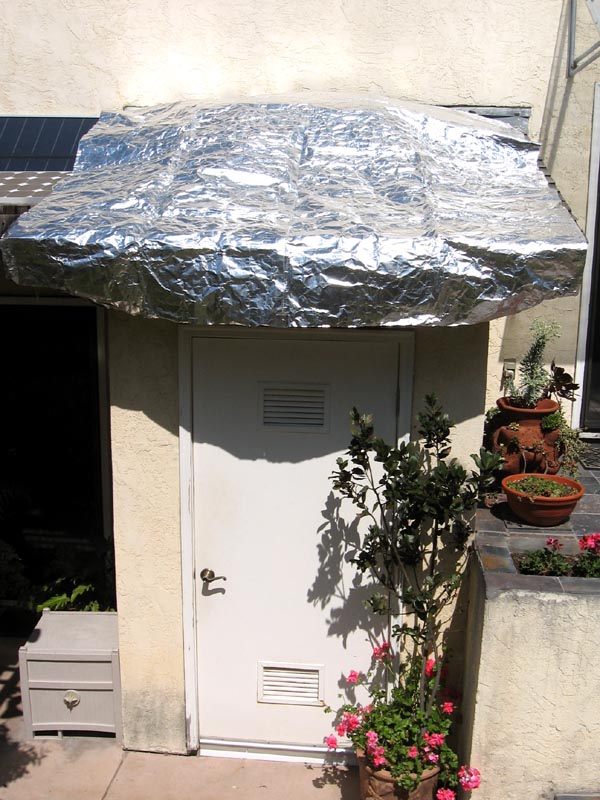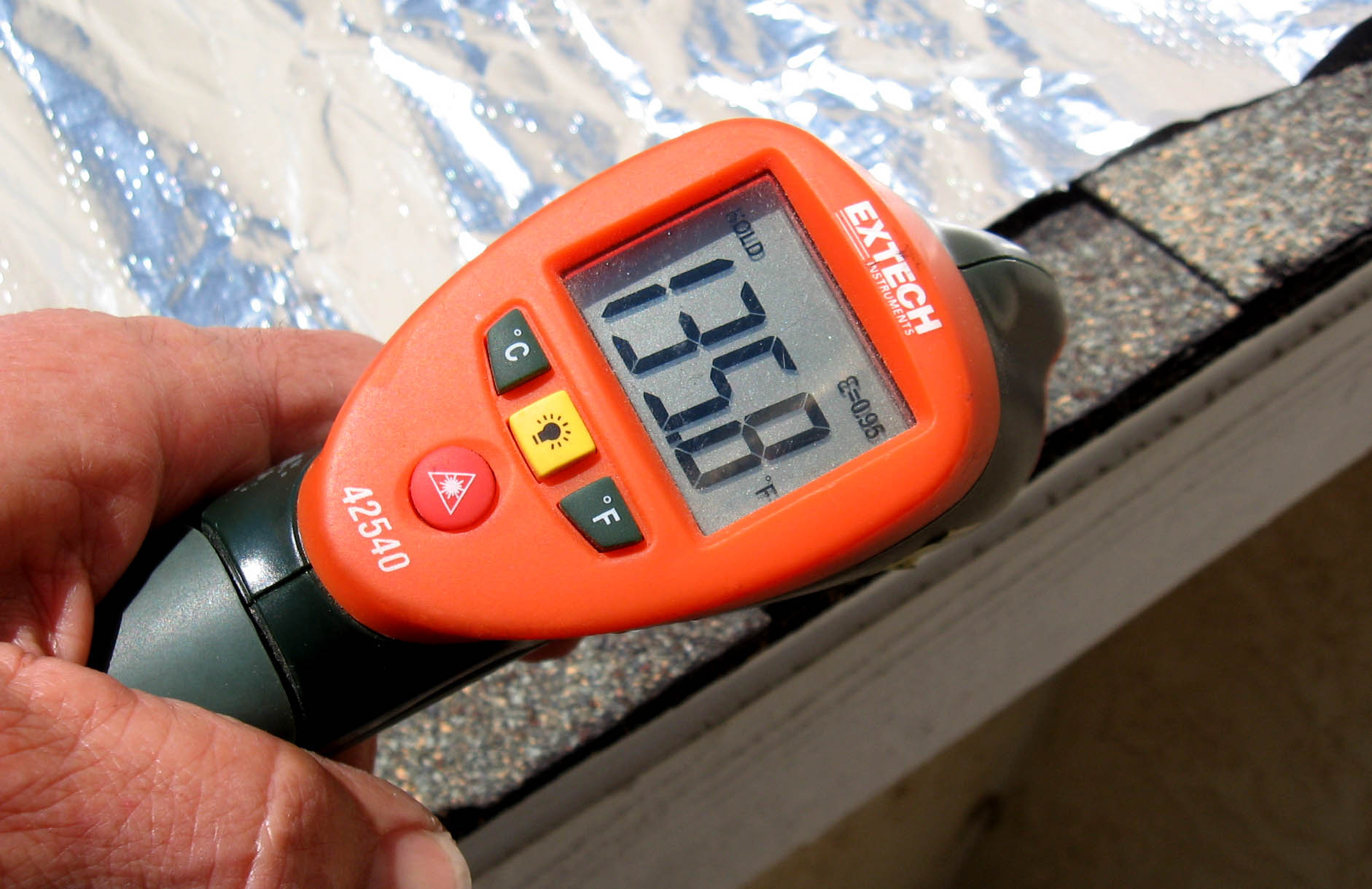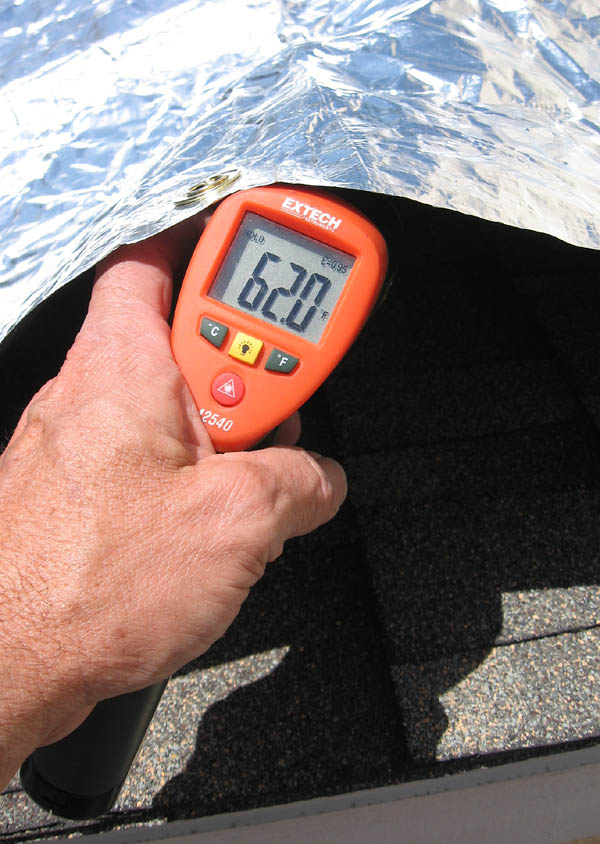 Here is an actual roof test on a small attached utility room that has a standard composition shingle roof.
At 1pm on a 65 degree F Spring day, the roof surface underneath CoolTarp roof is 62 degrees F after nighttime temps in the low 50's. The thermometer is a heat-sensing IR thermometer. The center photo shows the actual sun-exposed roof temperature at 135.8 degrees F and the right photo shows the room covered with the Cooltarp. This shows a 73 degree temperature reduction under the CoolTarp covered roof, and that adds up to quite an energy savings on cooling costs. A closed skylight under the tarp helped to elevate it above the roof surface.
The darker the roof, the more noticeable effect from this durable foil. Sun-exposed windows allow the most solar heat gain inside a building, so cooling them with CoolTarp is even more dramatic. It works best mounted outside the window, or overhead as an awning to prevent the sun from touching the glass surface. This is a similar type of reflective radiant barrier foil that was used to help keep the early astronauts stay more comfortable in outer space--inside their space suits and on their space craft. Our product is even more durable, fire resistant, tear-proof by hand, but easy to cut with a knife or scissors.
By lowering window, roof or wall temperatures and eliminating UV or IR wave sunlight contact using our reflective shading material, the life of the structure will be extended.
SolaReflex CoolTarp can also be used as a sturdy survival cover or blanket formed into a lean-to or tent, and when wrapped loosly around humans, drastically reduces heat loss in cold environments in survival situations. This is the ultimate radiant barrier product, and the best performance is when it's suspended in air, not touching any objects except on edges or minimal support structures.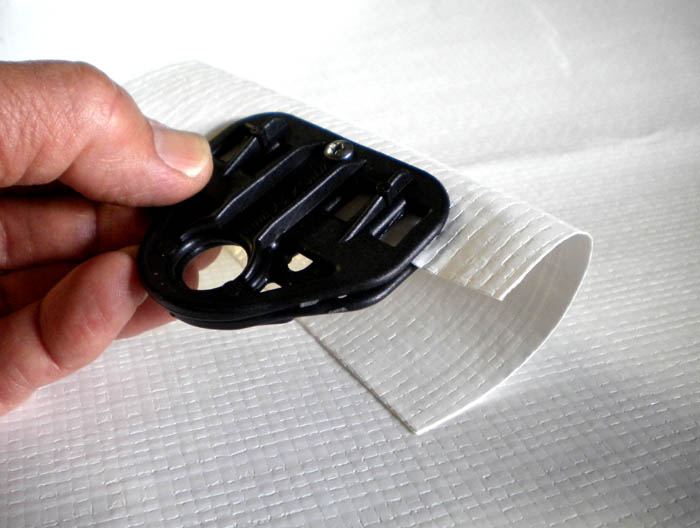 Each standard size SolaReflex CoolTarp measures 8' x 8', weighs only 1.75 pounds and comes standard without grommets, but it can be ordered with optional reusable pressure gromments (shown in photo above on Snow White CoolTarp) that are much stronger than traditional brass grommets with holes. UV resistant SolaReflex CoolTarp is 4.2 mills thick, both sides have the same high reflectivity, has a flame spread rating of 5, and has a bursting rating of 85 pounds per square inch.

Snow White CoolTarp is made of a combination of high density and low density polyethylene imbedded into a unique double stacked woven scrim. It has outstanding UV resistance, is over five times thicker (23 mills thick in three co-extruded layers) than SolaReflex CoolTarp and most utility tarps, and seven times more burst and tear resistant, with a very high burst rating of 690 pounds per square inch. It also has a class 1 fire code rating and high resistance to streaching. It comes in two standards sizes measuring 6' x 12' and 12' x 12', and custom size bulk 12' wide rolls from 20' to 300 feet long, which are available at a discounted price.

For larger custom size CoolTarps we suggest securing, then rolling the longest ends on a pole or smooth board to better distribute wind stress. For surfaces larger than that, its better to make two small sizes instead of one larger piece. If you plan to cut the assembled CoolTarp to fit a specific space, you can cut to fit and add your own grommets from any grommet kit. Holes should be cut for vents, antennas or other items mounted on the roof or wall.
To learn more about out other unique, high quality solar thermal products like our solar forced air heaters, solar cooker, reflector fabrics and heat absorbers, please click here to jump to our home page or below for our product pages.
---
Product pages for-
New! Aeroponic Tower Garden growing system from Juice Plus+ now available
Tower Garden accessory/add-ons ·
Solar Heating Drapes/Thermal Barrier Fabric · BISFA (solar forced air) heating panels
SolaReflex AA Octagon Parabolic solar cooker · SolarReflex 97% diffused reflector foil · SolaReflex Mirror Film and SolaReflex AA 95% mirror reflector and daylighting panels · Stovetop and Solar Still Water Purifier/Pasteurizer · New 3rd Gen. Spa/pool Water Heating Film · Lightweight Wood Pellet Biofuel cooker